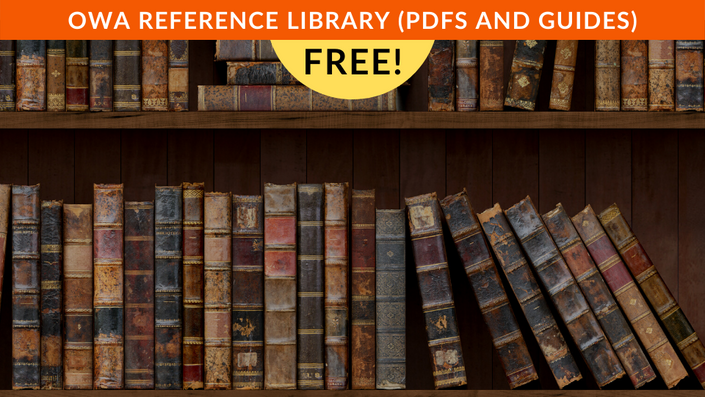 OWA Reference Library (FREE)
A Growing Collection of Outdoors, Bushcraft, Woodcraft, Naturopathic, Preparedness and Survival Books, PDF's and Guides
In all our years of training outdoors we have amassed a large library of materials including classic outdoors books, herbalism and naturopathic, military, special tactics, preparedness, survival and other books, pdf's guides and reports.

Many of these are freely found on the Internet so we have curated and uploaded them for you free of charge as a matter of convenience for you to have everything easily found in one place.
Other books are provided as a courtesy by our Instructors and Contributors, and some may have accompanying videos. (The library is already very extensive, but anything you would like to see added here let us know. We'll either create it or find it for you!)
Just like in our popular VIP Club, we will be uploading more materials to this library every Friday so you will have an ever-expanding resource at your fingertips.
Most books are provided in PDF form for use on any device. Other formats (Kindle, ePub, etc) are provided as available.

We truly hope you enjoy this ever-growing library as much as we have.

The best part?
You get complete access to the OWA Resource Library FREE forever.
Take a look at everything you're getting below, then enroll now and enjoy!

Except where explicitly stated, Old World Alliance claims no copyright or ownership of the books, pdf's guides and reports provided for free download in this reference library. All reference materials are provided for entertainment purposes only and Old World Alliance is not responsible for your use or mis-use of any of the materials provided herein.
The statements made in these documents have not been evaluated by the Food and Drug Administration and have not been confirmed by FDA-approved research. These products are not intended to diagnose, treat, cure or prevent any disease. All information presented here is not meant as a substitute for or alternative to information from healthcare practitioners. Please consult your healthcare professional about potential interactions or other possible complications before using any product. The Federal Food, Drug, and Cosmetic Act requires this notice.